High-End Versus Low-End Makeup Gift Ideas
By Alice Chong
0 comments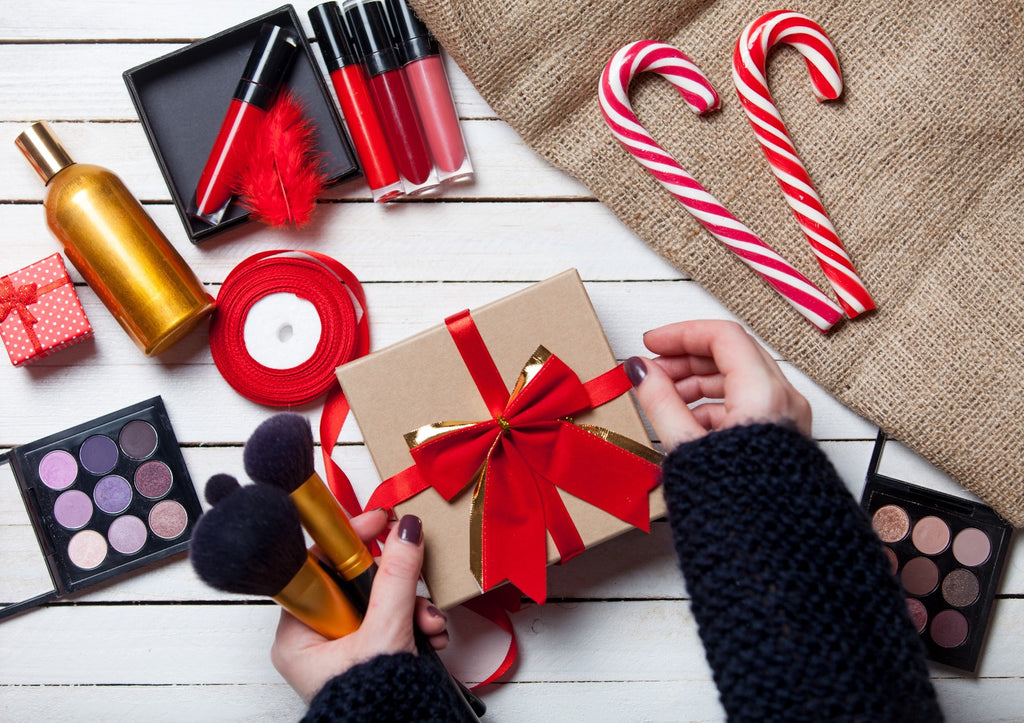 Black Friday and Cyber Monday sales are in full swing and it's a time where we like to get ahead on our holiday shopping. Need gift ideas? Here's 10 items for the makeup lover in your life from high-end to budget friendly.
High End Options
Natasha Denona's Eyeshadow Palette 28
Price: $239.00
This eyeshadow palette has 28 shades that will spread evenly across the eye making application a breeze. The darker shadows are perfect for a smokey eye while the neutral shades are softer and ideal for every day. The diversity of colors creates an instant look from edgy to simplicity. 
MARC JACOBS: Lipstick Jungle: 13-Piece Le Marc Lip Crème Collection
Price: $250.00
Who doesn't love a lippie? The Marc Jacobs Beauty Lipstick Jungle is a limited edition 13-piece long wear lipstick collection with a buttery finish. This option is perfect for the lipstick junkie or someone looking to expand their collection. The lipsticks last for up to 10-hours and most importantly keep the lips hydrated. Shades range from nudes with pops of purple, red, and berry. The 13 rich shades are packaged in a glamorous leopard-print clutch, with a tassel accent.
PAT MCGRATH LABS: Mothership I Eyeshadow Palette – Subliminal
Price: $125.00
The packaging of this palette is one to take notice of. The intricate design is gorgeous and can be perfect for décor in any makeup collection. The unique closure ensures security for when these shadows are on the go. The color palette includes breathtaking blues and violets, polymorphic jewels, lustrous golds, and iconic matte neutrals.
 BECCA COSMETICS-Shimmering Skin Perfector® Pressed Highlighter Vault
Price: $200.00
Highlighter is all the rage so it's an obvious gift option for any makeup lover. The vault features the following: Pearl, Opal, Prismatic Amethyst, Moonstone, Rose Gold, and Rose Quartz. With just the flick of a wrist, the skin will instantly illuminate with the variety included in this set.
KAT VON D: Everlasting Obsession Lip Liner Collector's Edition
Price: $200.00
Pack a punch with the 15 bold shades of The Kat Von D Lip Liner Collector's Edition. The collection has two new shades – Saint and Sinner. The peachy nude and midnight plum are the perfect transition from day to night. It's packaged in a midnight black envelope clutch with a magnetic closure. We love when beauty meets fashion!
Low-End Options
SEPHORA: Winter Magic Eyeshadow Palette
Price: $10
The Sephora Collection Winter Magic Eyeshadow Palette features a mix of eight matte and shimmering eyeshadows. This travel-size palette will fit in any makeup bag and transform a neutral day look to one for a night out with friends.  The detail on the outside packaging is one to not throw away, but instead keep and use as a decorative touch to a vanity.
BENEFIT COSMETICS: They're Real! Double the Lip Lipstick & Liner in One Mini
Price: $10
Who doesn't love multi-functional products! Benefit Cosmetics has one that doesn't break the bank with the They're Real! Double the Lip Lipstick & Liner in One Mini. The mini size has plenty of product that will last quite some time with proper application. The two colors available are a rosy neutral and a cherry read with a satin finish. Interested in a larger size and color selection? The full-size is just $10 with five additional shades.
SEPHORA: Winter Flush Blush Palette
Price: $16
Winter is all about a little extra sparkle and you'll get that and more with Sephora's Winter Flush Blush Palatte. It features a combination of eight shimmer and matte shades. The shades come in range of wearable color that make the most of your blush. The blush palette has a matte and shimmering touch. From cool rose to golden peach, this palette offers edgy and cheeky combinations perfect for every skin tone.
BECCA COSMETICS: Glow on the Go Highlighter Set
Price: $20
If you were interested in the BECCA Cosmetics high-end vault set, you'll love getting a taste with the BECCA Glow on the Go Highlighter Set. The set features both a liquid and pressed highlighter. These mini kits are perfect if you're in a rush for a gift and most importantly they're travel size! If you have a wish list yourself, these value sizes give you the opportunity to test out a product before committing the full-size.
ELF COSMETICS: Lip Liner & Blending Brush
Price: $3.00
When it comes to inexpensive quality makeup, Elf Cosmetics is a great option! Applying lip liner can be tricky, but this product makes the process a breeze. The fine tip of lip liner makes for easy application. The blending brush gives that lippie a dedicated brush for that particular color. This dynamic duo is available in 10 shades. For $3, you can't beat that!
Share this