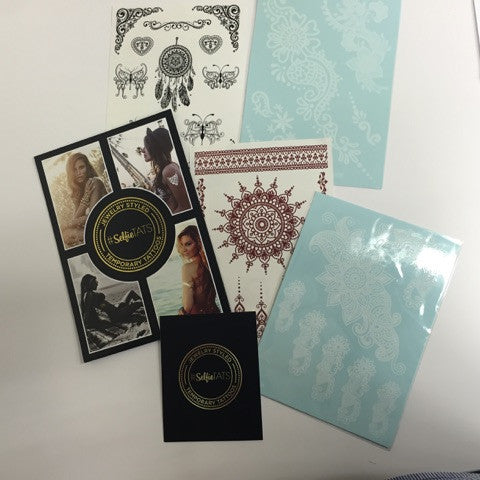 Love Lace Collection
A collection for the girl who is classically elegant and a lover of lace!
Includes 4 sheets jam packed with henna styled tattoos you can mix and match together. This collection also comes with a beautiful nail art set. The possibilities are endless! The best part is that they are so easy to apply and will become your new fun style obsession!
From the posh beaches in St. Tropez to a simple day or night around town, our jewelry styled temporary tattoos add a little bit of flash and dazzle to your look. Whether your style is Rockstar or Bohemian, we can't wait to see you rocking your #SelfieTATS. We think you'll love wearing your #SelfieTATS as much as we love creating them.
#SelfieTATS is all about sharing your fun, cool style with the world. Don't forget to tag @selfietats and use #SelfieTATS on Instagram, Twitter and Facebook to share your SelfieTATS style and get your chance to be featured with us!