Selfietats: Your Own Customized Body Jewelry Temporary Tattoos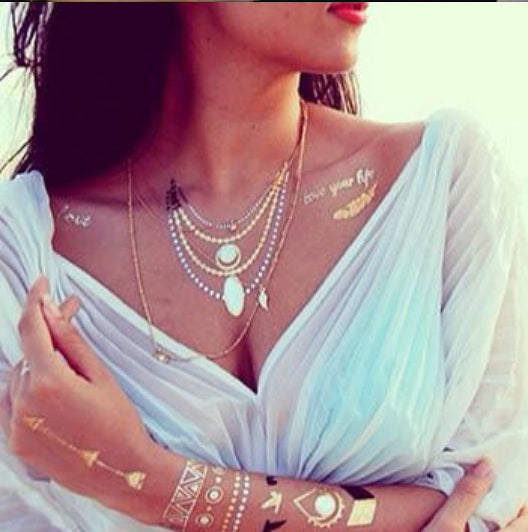 Passion for Fashion: Enhance Your Personal Style with Body Jewelry Temporary Tattoos
Did you ever want a tattoo but weren't sure if you want it permanent? Selfietats is the perfect solution with a variety of body jewelry temporary tattoos. In recent years, jewelry inspired temporary tattoos have become a popular design for individuals who wish to express their creativity. Most designs come in variety of sizes, colors, and designs plus they last for a few days. Your tattoo designs are specifically chosen by you to match your style. What better way to do so than with the intricate patterns of Selfietats!
What Makes Selfietats Unique?
Whether you are relaxing on beach, rocking out on a concert, or having a regular fun filled day, Selfietats are a perfect addition to your outfit. The tattoo can be placed on your wrist, ankle, and around your neck with a damp cloth or sponge Your friends and family will notice them immediately. Best of all, these tattoos are completely waterproof. The material was made to withstand a up to a week with everyday use. To remove soak the tattoo with baby oil and gently scrub. Once it's completely gone use lotion to rehydrate the area.
The tattoos are inspired by real jewelry. When placing the tattoo on the skin, you will notice that the designs resemble the detail you would find in a charm bracelet, necklace, or a ring. Finally, the tattoos will be reasonably priced. Permanent tattoos can cost up to hundreds and thousands of dollars. Selfietats tattoos come at a great value. Each package includes up to three individual sheets with over twenty different designs. The metallic feature will compliment any skin tone. Selfietats' motto is to retain the highest quality of our tattoos. An added bonus is free shipping. You will be amazed by the extraordinary and timely service.
It is Selfietats goal to deliver your tattoos in the quickest way possible. If you're unsatisfied with the purchase, we provide a full refund. Our customer support will answer any questions you may have, and we will solve any problems. The tattoos will be packed together in a colorful box with step-by-step instructions to guide you in proper application of the tattoos. Everyone will be impressed by your creative and unique selfies with your vibrant body jewelry temporary tattoos.
Share this