Do It Yourself Halloween Costumes
By Bianca Young
0 comments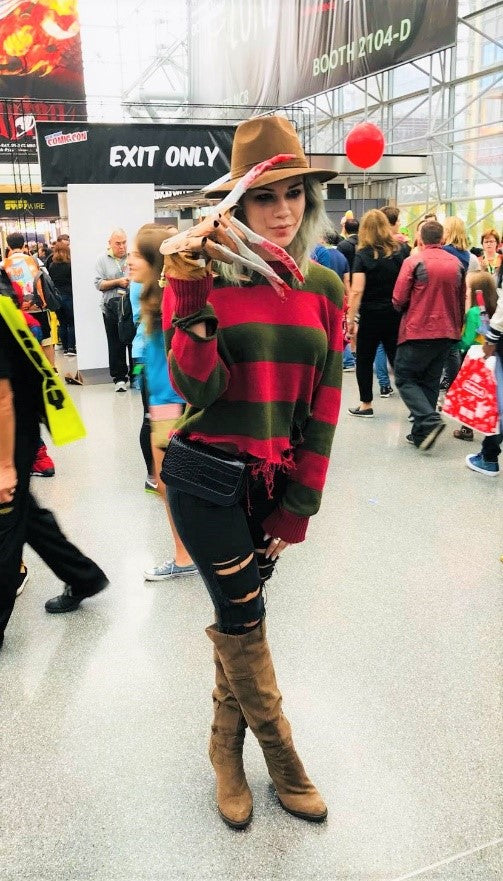 Let's flashback to New York Comic Con. Comic Con is one of the largest pop culture conventions. Upon arrival, you will see cosplayers dressed up as their favorite superhero or villain. Depending on the costume, the process can take anywhere between 3-9 months to create!
The eye-catching trademark of cosplay would be the Halloween make-up. Imagine a Joker or a vampire without a powdery face. The costume just wouldn't be the same. The makeup can transform cosplayers into beautiful yet downright scary Halloween characters.
Here's a few inspirations to create a Halloween costume of your own!
Scarecrow Girl 
The Scarecrow Girl is one of the easiest costumes to create, for the most part. You'll need knee high boots, ripped jeans, and a striped shirt of your choice. Flannels are also a great option. Add a top hat and streaky makeup to complete the base of the costume. You can use a combination of cardboard and foam with paint to create the eerie scissor hands!
Joker and Harley Quinn
Couple outfits are always a popular choice, and anyone can spot Joker and Harley Quinn. The makeup for Joker has a signature that resembles what's been seen on the big screen, but tailored to fit personal preference! Harley's make-up was perfect. Her outfit had a checked theme with the classic two-tone Harley hair. Check out that mallet! Both costumes were colorful, vibrant, and unique.
Robots
Comic Con also features displays, one in particular was K-S20 from the movie Rogue One. The image to the left is nearly identical to the one in the movie from the details of the logo mark to the metallic tones of the armor. While the robot was just a display, there were plenty of cosplayers that drew inspiration to create one of their own. The image to the right is a fascinating example. For a costume like this, it takes skill, time, and patience. This costume is mirrored after the game Metroid with a twist.
Characters are transformed to fit the personality of the person that will portray them. What's seen in a movie or depicted from a game or book is just the beginning. Comic Con is the perfect destination to see just how innovative people are at making characters their own!
Share this