Pure Chic: Temporary Metallic Tattoo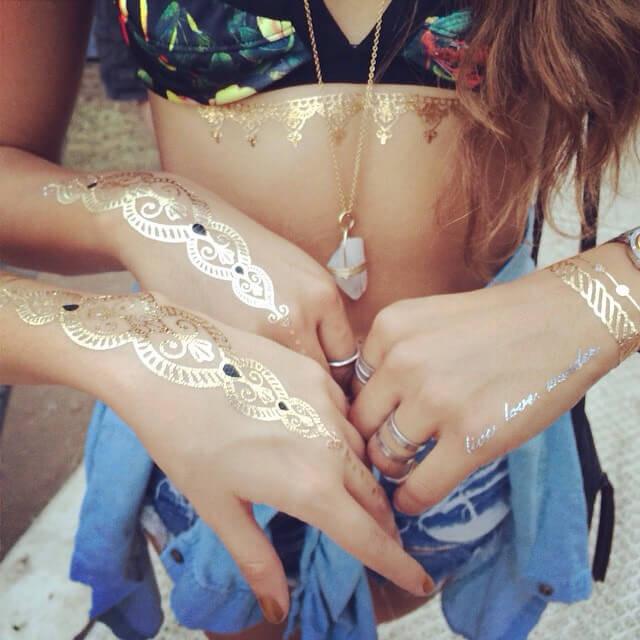 Be the Fashion Boss with a Temporary Metallic Tattoo
From across the room, the tattoo appears to be gold and silver bracelets that fits snugly on a wrist or necklaces that rest against the collarbone. But when you look up close, you realize that it is an illusion: The jewelry is actually a stack of temporary metallic tattoos, one of the biggest accessory trends of the year. All of your favorite celebrities are wearing metallic tattoos more than ever. Metallic tattoos are in style. Surprise your friends by wearing your metallic tattoo at special events. Your friends will be amazed by your sparkling and glamorous tattoos.
Metallic trends have been in style for the past few years. Metallic clothing is frequently seen in high-end fashion shows. This detail is found throughout plaid clothing, blouses, dresses long pants and high heels. Metallic trends have also been used for facial make up. It's common to find gold or silver metallic in makeup as well whether it's eyeshadow, a highlight, or even lipstick. With the trend full force, metallic tattoo designs are no longer just a Halloween accessory. Today, metallic tattoo prints are used all year round from festivals to daily use. Selfietats has intricate throughout the nine collections. They can be applied as bracelet tattoos, anklet tattoos, necklace tattoos, and even nail tattoos!
Temporary Metallic Tattoos Trends Perfect for Any Time of Year
Temporary metallic tattoos are great for special events like beaches, holiday parties, and even weddings. You can customize the tattoo to match with your outfit. For instance, at Halloween parties, you can apply temporary metallic tattoos and it would complement your costume. You will stand out among your friends in terms of the most creative costume. On a special occasion like a wedding, you can apply metallic tattoos on your bracelet and hands. The tattoo will accentuate your wedding dress. You will be impressed by the various possibilities you can use for social events and parties. Selfietats love events too! We will help you create a night to remember with a metallic tat-a-ware party! Invite friends over to try metallic tattoos for the fraction of the price. Selfietats have over nine full collections with over twenty different designs in three sets. The online company offers fast shipping with excellent customer service. For easy application for the entire party, you'll simply need scissors plus a damp cloth or sponge. To remove, gently scrub the area with baby oil. Each tattoo has application and removal instructions. Don't forget to hashtag us!
Share this