A Fashionista's Guide to... #SelfieTATS
By Chawaine Reid
0 comments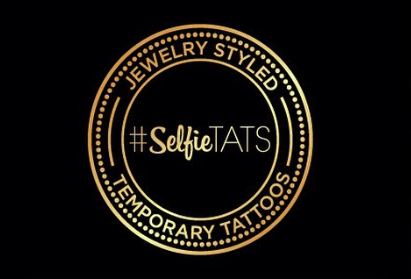 This post is long overdue! Many of you may have questions about #SelfieTATS, who we are, and how effective our metallic temporary jewelry tattoos are. So, here you go!
✔
 COMPLETELY WATERPROOF: Once applied, these awesome tattoos will not wash off. Show them off at the beach or pool party. Long lasting temporary tattoos.
✔
GREAT VALUE & FUN VARIETY:
 3 individual sheets (6" x 8"),
 Amazing multiple patterns ALL IN ONE! Over 20 different Stylish tattoo shapes and designs - Necklace, Wrist Bracelet, Butterfly, Leaves, Flowers, Tribal designs, Totem and other miscellaneous. Looks great on all skin types and colors.
✔
APPLY IN 45 SECONDS or less and so easy to apply: Instantly change your look in the blink of an eye. Makes a great Christmas stocking stuffer gift. Have Fun, Get Flashy, Own Your Style!
✔
LAST SURPRISINGLY LONG: Tattoo could stay on skin for about 3 -7 days and it depends on how many times you take showers, washing hands, and even doing dishes. Wonderful for all different occasions,Party/Wedding/Special Festival Activity/Big Show/Daily use, etc.
✔
100% FULL MONEY BACK GUARANTEE: WE STAND behind our brand 
#SelfieTATS
 and provide 100% full money back guarantee, If, For Whatever Reason, You Don't Absolutely Love your 
#SelfieTATS 
Temporary Tattoos, just contact us and we will do absolutely anything needed.
Description:
ARE YOU READY TO SHINE?
The very latest jewelry-inspired temporary tattoos for women, who really want to stand out from the crowd.
3 Sheets of the very latest designs, massive value. 
Buy more packs and save even more!
PERFECT FOR...
✮
 The Pool
✮
 The Beach
✮
 Parties
✮
 Festivals
✮
 Concerts
✮
 Bachelorette Parties
✮
 and more...
HOW TO USE
They can be placed anywhere on the skin, hands, feet, neck, arms, legs... even the nails! Best applied to flat areas with no body hair. 
1) Thoroughly clean the area to be applied & make sure it's dry
2) Cut out your desired tattoo
3) Peel to reveal the sticky surface
4) Place sticky side face down on the skin
5) Using a warm damp cloth, hold firmly over the tattoo for 30 seconds, or wait until backing paper is fully soaked
6) Remove the backing paper and allow to dry without touching for 3 minutes
h) Go have fun
HOW LONG WILL THEY LAST
With proper application and care, your new temporary tattoos will last 4 - 6 days. Avoid contact with oil based liquids such as sun cream, for maximum duration.
HOW TO REMOVE
Apply baby oil or rubbing alcohol, rubbing gently into the tattoo until fully removed.
Share this