5 Affordable Ways to Say I Love You
By Alice Chong
0 comments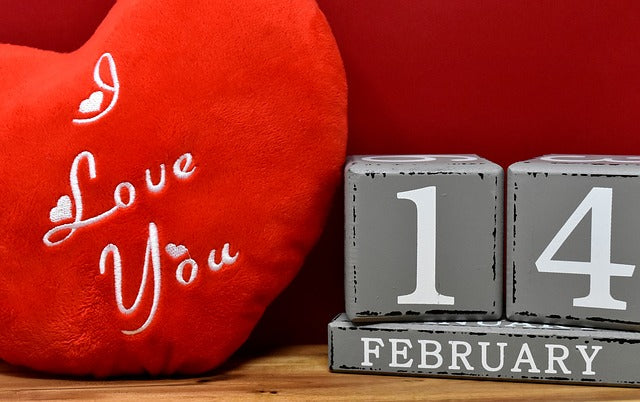 Valentine's Day is approaching very soon! Are you ready? There are tons of creative and unique ways to make your Valentine's Day special. Expressing your love doesn't have to break the bank. Here are 5 quick and easy gift ideas!
1. Candy Bouquet
Photo by Postris
Valentine candy bouquets are perfect to put chocolate and candies. You would need an acrylic heart cup, red felt, glitter hearts, heart candy, hot glue, wooden skewers, Styrofoam, and scissors.
Place the felt in the cup and break apart a the Styrofoam. Insert the skewers into the Styrofoam to hold the candy stems in place. Trim your wooden skewers to desired length. Hot glue the blunt side of the wooden skewers to the backs of the candy and allow the glue to cool. Insert the pointy side of the candy skewers into the Styrofoam. Arrange candy as desired. Mix it up and use different candies or even a stuffed animal!
2. Heart Sticky Note 
Photo by Postris
Surprise your valentine with sticky notes! Your Valentine will be excited to wake up in the morning to a mirror filled with sticky notes. To make your own heart shaped mirror, start by outlining the area with a marker. Next, take some pink, black, and brown markers to write your special messages.
3. Fortune Cookies
Photo by Evermine
These beautiful paper fortune cookies stand out from the typical Valentine card. They are vibrant and give your loved one an element of surprise. There are various sites that have free digital paper downloads. Evermine has an amazing template to make the cookie. To make the actual fortune, cut strips of paper, write your personal message, and stick inside the cookie. Seal the cookie with tape, a stapler, or hot glue. 
4. Bag of Chips Valentine
Photo by Feed Inspiration
A cheap and easy Valentine's gift - grab your favorite bag of chips. All you have to do is print a message and just like that, you're done. Here's a few ideas - 
Lays, "Because a classic cannot be beat...I think you are really neat!"
Doritos, "This is NACHO ordinary Valentine! Will you be mine?"
Cheetos, "Hope this isn't too cheesy way to say..Happy Valentine's Day!"
This is perfect if you need to give out multiple Valentine's to friends.
5. At Home Date Night 
Photo by Our Motivation
Don't want to spend Valentine's day on an expensive restaurant? Make Valentine's night at home! It will be more romantic and intimate. Decorate the room with your favorite scented candles and place them across the room. Spread rose pedals to illuminate the glow of the candles. Next, take a basket and fill them with wine, sandwiches, cheese, and crackers. End your night with a romantic movie marathon! Your Valentine will appreciate the effort you have put into making the day personalized and unique.
Valentine's Day shouldn't be a day to express love and gratitude through expensive gifts. It should be day in which healthy relationships are recognized. It shouldn't be a competition of how couples should express affection. Valentine's Day should be a moment where couples find the deeper meaning and purpose of their relationship. Creating affordable gifts while crafting love letters will always leave a lasting impression for years to come.
Share this